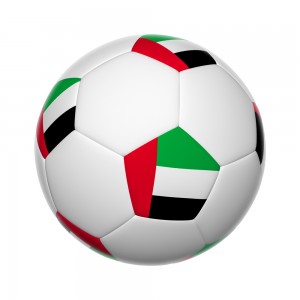 Come 2019, the UAE will have even more reason to impress the international community, as it will host the official Asian Football Cup. The UAE has already set forth a number of major economic and social goals that it aims to accomplish by 2021 as part of a larger effort to become one of the world's most innovative nations, and the 2019 Cup may give this progressive country the opportunity to showcase the fruits of its labor. The Asian Football Cup is coordinated by the Asian Football Federation and hosted in a different country each year; the tournament, intended to name the best in the league, is traditionally comprised of 24 different professional football teams throughout the Asian continent.
The 2019 AFC location was the most recent to be decided upon by the Federation, and the UAE walked away with the "win" after beating out Iran. Both nations have been considered top contenders for the hosting spot for over two years now, but Iran's refusal to change its policy that largely forbids women from attending home matches was a major deciding factor in the Federation's selection. However, the UAE wasn't just selected by default. As international salesman and avid football fan Hussain al Nowais notes, the UAE is an optimal choice for the Asian Football Cup for a host of reasons, including:
The UAE is known for being a hub for international business and culture, particularly in its larger cities of Dubai and Abu Dhabi. The players and fans that yield from around the Asian continent will therefore find the UAE to be a host that's already accustomed to welcoming and embracing an international audience.
The UAE already has the venues needed to host simultaneous matches between the tournament's two dozen teams, including stadiums at Abu Dhabi, Dubai, and Al Ain. The country won't need to invest time and effort, nor cause potential delays, to build new venues.
The UAE maintains the infrastructure and accommodations to successfully host a largely-attended international event; its highly-modernized cities, roadways, and technology services will certainly be advantageous to visiting teams and their fans.
The Emirati football team has played impressively in recent years, and placed third in the 2015 Asian Football Cup. While much can change in the course of four years, the team seems to be on an upswing, and its success could generate the buzz and excitement the UAE needs to make the 2019 AFC an event that's truly embraced by Emirati fans.