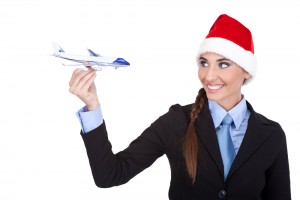 From making holiday plans, to budgeting for holiday gifts, it's common to feel stressed during the holiday season. And, when you have to travel this time of year all that stress can get kicked into high gear. This season is the busiest period for travel; you may experience crowds of fellow travelers, long lines, and flight delays due to bad weather. Fortunately, with the right preparations and mindset, you can avoid stress and have a pleasant travel experience— no matter what's thrown your way. Consider these holiday travel tips from Hussain al Nowais:
Check In Online
To save time and avoid getting bumped, check in for your flight online in advance and print your boarding pass. You can check in online up to 24 hours before your scheduled departure. And, if you're not checking a bag, you can head right to security.
Allow Plenty of Time
Millions of Americans travel during the holidays, whether to visit family or embark on a winter getaway. Expect a busy airport, and avoid delays by leaving for the airport earlier than normal. Allow yourself plenty of time for driving to the airport, parking, checking in, going through security, and grabbing a bite to eat before you board.
Ship Your Gifts
If possible, buy holiday gifts online and have them shipped directly to the recipient's address or to the place where you'll be staying. Packing your gifts will only take up valuable space in your luggage. If you do choose to pack your gifts, leave them unwrapped. When scanning your bag, TSA may need to rip off the wrapping paper in order to inspect the items.
Be Prepared for the Unexpected
With the increased amount of travelers and winter weather, it's possible that your flight could be delayed or even canceled. In the event that it's canceled, the airline will have to book you on another flight, which could extend your stay at the airport. Prepare for the worst; wear comfortable clothes, pack snacks, and bring things to keep you entertained in the event of a long delay.