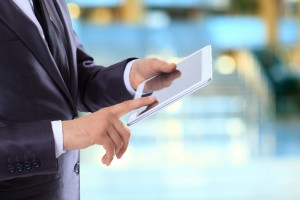 If you're like most traveling business people these days, you use a tablet to conduct work while on the move. For many, the tablet becomes the lifeline for communication and productivity while away from the office. As Hussain al Nowais can attest, given the crucial function of this device, it's important to purchase a tablet that will truly deliver during travel. Two of the most popular tablet brands on the market today are the iPad Air 2 from Apple and the Surface Pro 3 from Windows. Both are well-designed, technologically-advanced products, but which will work best for you?
Does your work demand substantial typing? If so, you may be more inclined to choose the Surface tablet, which features a built-in keyboard. This tablet can accommodate the needs of those that are frequently engaged in the creation or editing of documents while on the go and its kickstand allows for use as a traditional laptop. The Surface Pro 3 also affords a large screen, which could be ideal for those that need close-up viewing of documents/projects, or those that simply want to kick back and watch a movie while in flight. However, the Surface doesn't have as friendly of an interface as the iPad, nor as many applications, which could be limiting to those that need to use their tablets for running multiple programs and applications at once.
The iPad, on the other hand, is more ideal for those that have existing Apple products (as the tablet can sync with these devices seamlessly) or for those with tablets that contain sensitive information, as the iPad Air 2 features a fingerprint security system for advanced protection. The iPad Air 2 also offers faster performance than the Surface Pro 3, which could be critical to some. Though definitely not a replacement for a laptop, the iPad Air 2 is cheaper than the Surface Pro 3.
Ultimately, Apple and Windows present the traveling business person with tablets that each offer their own unique set of advantages; therefore, the most important step in finding a suitable tablet is identifying your own specific tablet needs and preferences.